Are you tired of shelling out big bucks for planners that don't quite meet your needs? I know I was! But guess what? I stumbled upon a game-changing solution: printing my own planner pages!
Seriously, it's been a game-changer for me, especially once I figured out the handwriting on a tablet thing. So, in this blog post, we're going to dive into the perks of printing your planner pages instead of buying a pre-made planner.
Trust me, it's not only a money-saver, but it also allows you to customize your planning experience like never before. I love it so much, I partnered up with a friend to start this blog about it, and a whole Etsy shop too!)
Get ready to say goodbye to cookie-cutter planners and hello to a planner that's tailored specifically to you.
By the way, we have this awesome productivity planner – it's free – just as a thank you for landing on this post!
Make sure to save this post on Pinterest for future reference. Simply hover over the image below and click the SAVE button to pin it on your Pinterest board.
I would greatly appreciate it if you could repin or share this post. Your support will make a significant difference for our small blog. Thank you so much!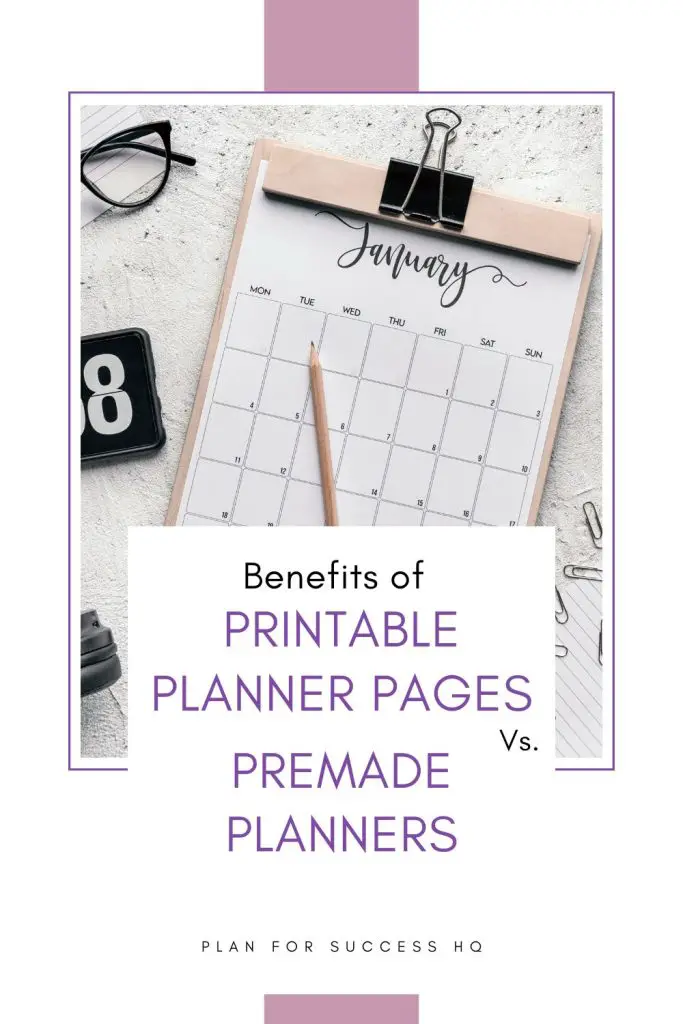 Why Printing Planners (Or Digital Customized Planners) Are Amazing
Cost-effectiveness
Let's talk about the first big benefit: cost-effectiveness. As a mom of three, I know how quickly expenses can add up. Buying pre-made planners year after year can really put a dent in your wallet.
But when I started printing my own planner pages, I instantly saw the savings. Instead of forking out a hefty amount for a new planner, I simply printed the pages I needed at home.
I could choose the layout, design, and even the paper quality based on what fit my budget. Plus, think about the long-term savings!
With printing, I only pay for the materials I use, and I can reuse pages or change the layout without having to buy a whole new planner. It's like having a personalized planner that doesn't break the bank.
Customization
Now, let's talk about customization. As a mom, my schedule is anything but ordinary. I needed a planner that could keep up with my busy life.
When I printed my own planner pages, I had the power to customize it to fit my unique needs. For example, I added sections for meal planning, kids' activities, and even a little self-care reminder for myself.
I could choose the font, colors, and even include motivational quotes that kept me going during those hectic days. It's like having a planner that understands my life and supports me in staying organized.
Sustainability
Sustainability is a topic close to my heart, especially as a mom who wants to leave a better world for her children. When I discovered the option to print my own planner pages, I realized how much more environmentally friendly it was compared to buying pre-made planners.
I could print on recycled or sustainably sourced paper, reducing my carbon footprint. Plus, by reusing pages and only printing what I needed, I was cutting down on paper waste.
It felt good knowing that I was making a small, eco-friendly choice while still staying organized.
Organization and Flexibility
Organization and flexibility are key when you're a busy mom juggling multiple responsibilities. With printed planner pages, I had the freedom to choose the exact layout that worked for me.
I could create separate sections for each of my kids, track their appointments, school activities, and even plan fun family outings. Plus, if I needed to add or remove pages throughout the year, it was as easy as hitting print again.
Having this level of customization and flexibility made it a breeze to stay organized and adapt to changing schedules.
Digital Integration
Being a tech-savvy mom, I loved that printing my own planner pages allowed for seamless integration with my digital tools. I could print weekly or monthly pages and easily transfer important dates and appointments from my digital calendar onto the physical planner.
It was the best of both worlds! I could enjoy the tangible experience of writing things down while still benefiting from digital reminders and notifications.
Whether it was syncing my printed planner pages with my smartphone or using productivity apps alongside my physical planner, the digital integration gave me the best planning experience.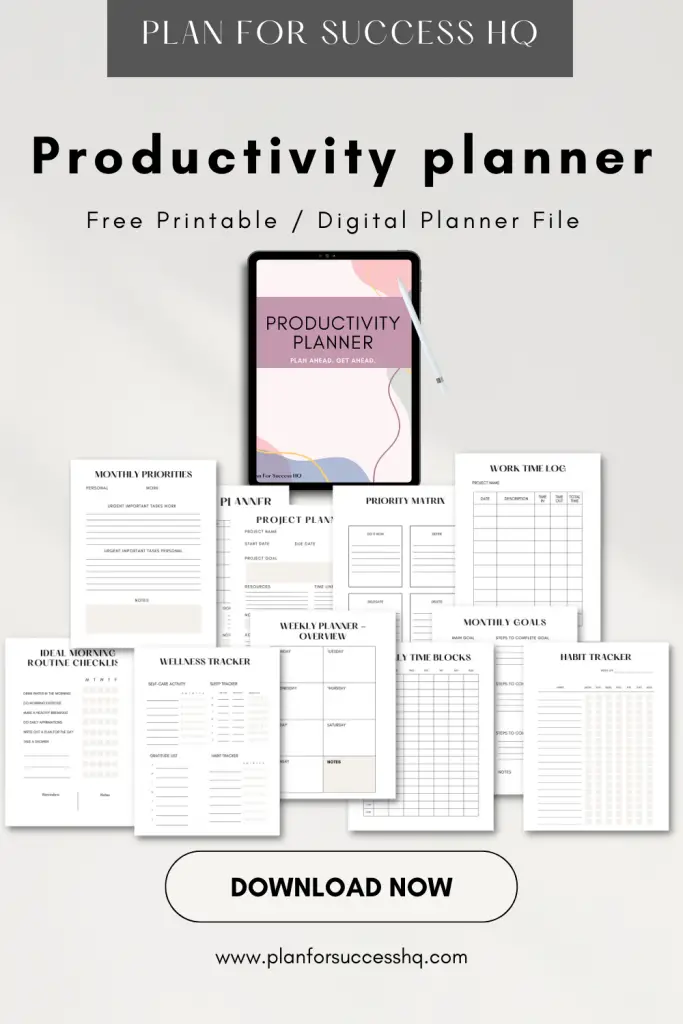 We Love Premade Planners Too, But They Can Be Difficult To Use
Buying pre-made planners can sometimes be a frustrating experience, especially for busy moms like us.
Pre-made planners often have limited customization options. They come with a set layout, design, and sections that may not align with our specific needs and preferences.
As moms, our schedules and priorities can vary greatly, and we need a planner that caters to our unique situations. When we're unable to customize the planner to fit our requirements, it can hinder our ability to stay organized and effectively manage our daily lives.
Pre-made planners can be quite expensive. As moms, we already have a lot on our plates, both financially and in terms of responsibilities. Spending a significant amount of money on a planner that may not fully meet our needs can feel like a waste. We want to make sure we're getting the best value for our hard-earned money.
Pre-made planners often lack the flexibility we actually need. Our lives are constantly changing and evolving, and we need a planner that can adapt with us. However, with pre-made planners, we're limited to the predetermined structure and format. We can't easily add or remove pages or sections as our needs change, which can be frustrating and inefficient.
Each mom has her own unique system of organizing tasks, appointments, and priorities (I know I do!). Pre-made planners may not align with our preferred methods, which can lead to confusion and difficulty in staying on top of our busy schedules.
FAQ
Should I buy a planner or make my own?
The decision to buy a planner or make your own depends on your preferences and needs. Buying a planner offers convenience and pre-designed layouts. If you prefer customization and flexibility, making your own allows you to tailor it to your specific requirements. Consider your organizational style and choose the option that suits you best.
What is the difference between printable planner and digital planner?
The main difference between a printable planner and a digital planner is their format. A printable planner is a physical paper-based planner that you print and fill out manually. In contrast, a digital planner is a digital file that you use on electronic devices like tablets or computers, often with interactive features and the ability to type or draw directly on the pages.
Is paper or digital planner better?
The choice between paper and digital planner depends on personal preferences and lifestyle. Paper planners offer a tangible writing experience, ideal for some who enjoy handwriting and fewer digital distractions. Digital planners provide convenience, easy editing, and accessibility across devices. Assess your needs and choose what suits you best.
Why do people still use paper planners?
People still use paper planners for various reasons. Some prefer the tactile writing experience and find it easier to focus without digital distractions. Paper planners offer a visual overview of schedules and goals. They are also accessible without relying on technology or battery life, providing a reliable backup option.
Is it worth spending money on a planner?
Spending money on a planner can be worth it if it helps you stay organized, motivated, and productive. A well-designed planner can provide structure, improve time management, and support goal-setting. Consider your organizational needs and preferences to determine if the investment is valuable for you.
What is the disadvantage of paper planner?
The main disadvantage of a paper planner is the potential for loss or damage. If misplaced or damaged, important information may be lost. Additionally, paper planners may not offer the same digital features, such as automatic reminders or cloud syncing, as their digital counterparts.
Do I really need a planner?
Whether you need a planner depends on your organizational preferences and lifestyle. A planner can be beneficial for staying organized, setting and achieving goals, and managing time effectively. If you prefer a structured approach and find value in writing things down, a planner may be a valuable tool for you.