So we know it's great to set goals for ourselves, but have you ever thought about setting goals for children?
Setting long-term goals and short terms goals is a great way to empower your little ones and teach them valuable life skills.
Whether it's the start of a new year or simply time to set a new achievable goal, we're here to guide you through the process.
Setting goals, both long-term and short-term, can help children develop a sense of purpose and direction.
By breaking down their big aspirations into smaller, achievable goals, they can witness their progress firsthand and build confidence along the way.
Plus, setting goals can help nix down some bad habits, and help your kiddo develop a growth mindset too!
But how exactly do you go about setting effective goals for your child?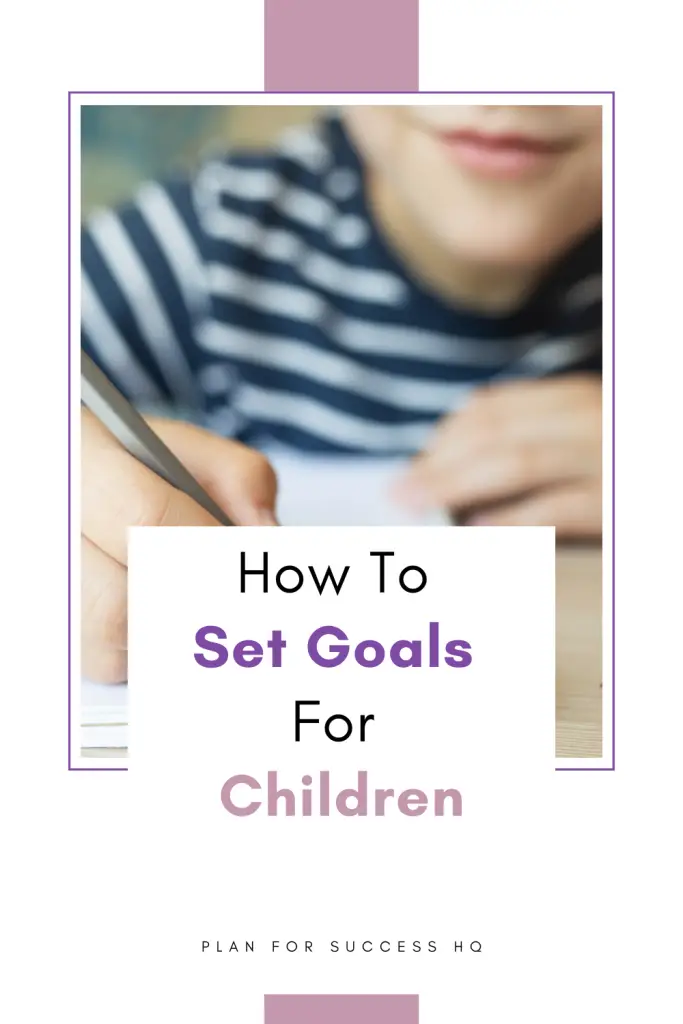 4 Steps To Help your Kids Set Goals
Making SMART Goals
Want to make your child's goals super SMART? Here's the scoop: SMART stands for Specific, Measurable, Achievable, Relevant, and Time-bound.
It's a fancy way of saying that you need to get clear on what you want, track your progress, keep it doable, make it matter to you, and set a deadline.
Let's break it down. First, be specific about what you want to achieve.
No vague stuff!
Make sure your child can measure their progress, so they can see how far they've come. Keep it real and set goals that they know they can actually reach.
Make sure the goals your child sets up meet the goals that match the child's age and emotional development too. These kinds of first goals that focus on new skills are so great for child development, but if they're unrealistic or hard to measure, they will end up with low self esteem.
Starting Simple
Let's talk about setting goals for your kiddos and how to make them grow like wildflowers. Here's the deal: start simple and let those goals bloom alongside your child. Setting goals is an important life skill you know!
Begin with easy-peasy goals that they can conquer with a big smile (using age-appropriate activities). usually a simple chore is a great starting point. This pumps up their confidence and sets them on the path to being goal-crushing champs.
As your little one grows, let their goals level up too! Challenge them with more daring and exciting targets.
By embracing this natural progression, you're nurturing their inner fire and personal development.
Remember, it's not just about the end result, but also the adventure of setting and achieving those goals!
Finding Motivation
We all know that kids have their own unique sparks that ignite their passions. To help them reach their goals, we need to tap into that special motivation.
Is it the thrill of learning something new? The pride of making their dreams come true? Or maybe the joy of making a positive difference?
Take the time to discover what truly excites and inspires your child. Encourage them with positive affirmations, celebrate their progress, and provide them with role models who inspire them.
By fueling their motivation, you'll see them soar, overcome challenges, and achieve their wildest dreams. Let's cheer them on and watch their goals become reality!
Teaching Kids To Reflect On Their Goals
Teaching your kids to reflect on their goals is a powerful way to help them grow and develop.
Encourage them to take a moment and think about their progress, challenges faced, and lessons learned along the way.
By reflecting, they gain valuable insights into what worked, what didn't, and how they can improve. Encourage open and honest conversations about their goals, asking questions that spark self-awareness and critical thinking.
Help them celebrate their achievements, big or small, and guide them in setting new goals based on their reflections.
By instilling the habit of reflection, you empower your kids to become self-directed learners and resilient goal-setters, setting them up for lifelong success.
Why Teach Kids Goal Setting
Goal setting is a vital skill to teach young children, as it sets them up for success in various aspects of their lives.
By introducing the concept of goal setting at a young age, parents can help their children develop important life skills such as perseverance, hard work, and building confidence.
It's best to start with small, achievable goals that are age-appropriate and relevant to the child's developmental milestones.
For elementary students, this could include goals related to academic achievements, social skills, or even personal hobbies.
Breaking down bigger goals into smaller pieces allows children to track their progress and experience a sense of accomplishment along the way.
Engaging the whole family in the goal-setting process can create a fun and supportive environment, where daily conversations and ongoing evaluation can help children stay motivated and on track.
So, whether it's creating a goal board, telling a simple story, or setting measurable learning goals during the holiday season or the upcoming year, teaching children the art of goal setting is a great way to instill valuable skills that will benefit them throughout their lives.
Examples Of Goals For Kids
Improve reading skills by reading a book independently every week.
Complete homework assignments on time and strive for better grades in specific subjects.
Practice a musical instrument for a certain amount of time each day to enhance musical abilities.
Make new friends and participate in social activities to improve social skills.
Engage in regular physical activity, such as playing a sport or riding a bike, to enhance gross motor skills and overall health.
Develop a growth mindset by embracing challenges and persisting through difficult tasks.
Volunteer for community service projects to foster a sense of empathy and compassion.
Set aside dedicated screen-free time each day to promote creativity, imagination, and independent play.
Learn a new skill, such as painting, coding, or cooking, to expand their knowledge and interests.
Practice good manners and respect for others in various social settings to cultivate positive interpersonal relationships.
FAQ
What are 5 smart goals for kids?
Five smart goals for kids include improving reading skills by reading a book independently and discussing it weekly, increasing physical activity through 30 minutes of outdoor play or sports five days a week, boosting academic performance with specific grade or GPA improvements, developing organizational skills with a neat study area and planner use, and fostering a new hobby by regularly practicing an interest to achieve proficiency.
What are goals examples for kids?
Examples of goals for kids include improving reading or math skills, participating in sports or extracurricular activities, making new friends, learning a new instrument or language, completing homework on time, helping with household chores, and practicing mindfulness or relaxation techniques for stress management.
What is a short term goal for a child?
A short-term goal for a child could be completing a specific homework assignment, learning to tie their shoelaces, memorizing a poem or a new vocabulary word, participating in a school event or sports activity, or achieving a certain score in a quiz or test.
What are good goals for elementary students?
Good goals for elementary students include improving reading and math skills, actively participating in classroom discussions, completing homework assignments on time, making new friends and developing social skills, engaging in physical activities, practicing good study habits, and showing kindness and respect towards others.