Picture this: You wake up in the morning feeling energized and motivated, ready to tackle the day ahead.
You effortlessly breeze through your tasks, accomplishing goals and making progress.
And at the end of the day, you find yourself with plenty of time for activities you truly enjoy, whether it's spending time with loved ones, pursuing hobbies, or simply relaxing.
We all desire to maximize our productivity and enjoyment in life, and the key to unlocking this lies in one powerful tool: planning. (and guess what? It doesn't matter who you are, planning is the key to success for ANYONE)
By the way, we have this awesome productivity planner – it's free – just as a thank you for landing on this post!
Make sure to save this post on Pinterest for future reference. Simply hover over the image below and click the SAVE button to pin it on your Pinterest board.
I would greatly appreciate it if you could repin or share this post. Your support will make a significant difference for our small blog. Thank you so much!
Understanding the Importance of Planning
Let's start by understanding what planning truly means. Planning involves consciously thinking about the future, setting goals, and devising strategies to achieve them. It is the foundation upon which productivity and enjoyment thrive.
Benefits of planning:
Enhanced productivity: When you have a plan in place, you have a clear roadmap to follow. You can prioritize tasks, allocate time effectively, and avoid the trap of procrastination. As a result, you accomplish more in less time, boosting your productivity to new heights.
Reduced stress and overwhelm: Life can often throw unexpected challenges our way. However, with a well-structured plan, you gain a sense of control and preparedness. Planning helps alleviate stress and overwhelm by providing a framework that allows you to tackle obstacles and uncertainties with confidence.
Improved time management: Time is a precious resource, and planning helps you make the most of it. By organizing your tasks and allocating specific time slots for each, you become more efficient and focused. You avoid wasting time on unimportant activities and ensure that you invest your energy where it truly matters.
Increased goal achievement: We all have dreams and aspirations we want to fulfill. Planning acts as a bridge between your current reality and your desired future. By breaking down your goals into actionable steps, setting deadlines, and tracking progress, you significantly increase the likelihood of achieving them.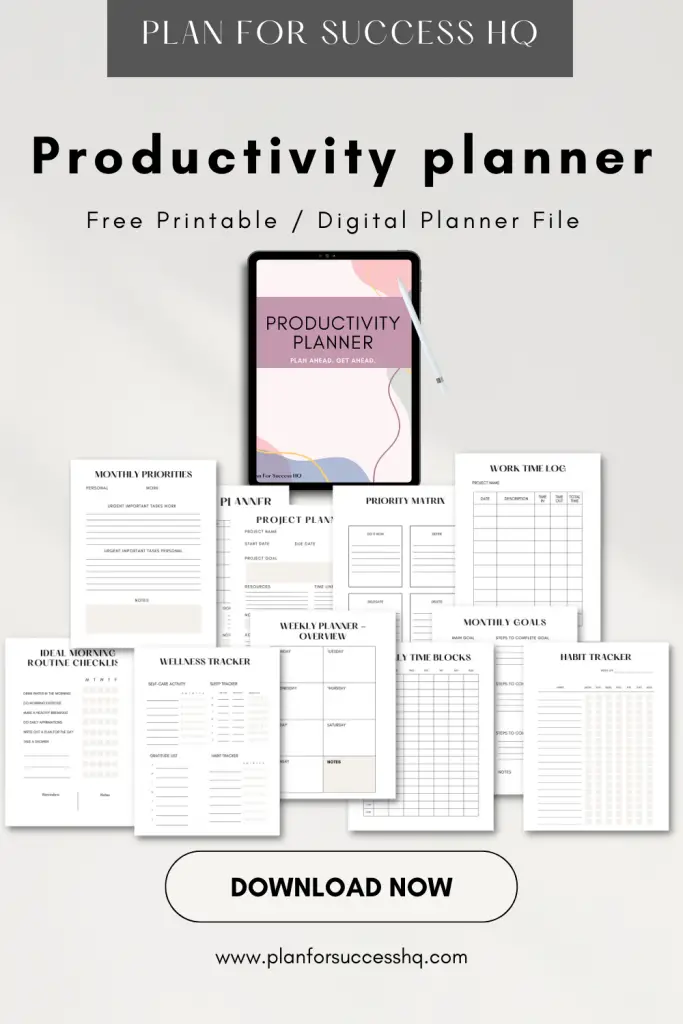 Basic Principals To General Life Organization
Welcome to the world of life organization, where productivity and fulfillment become your trusty companions! Let's start by setting priorities and focusing on what truly matters to you.
Declutter your space and mind for mental clarity and efficiency. Set audacious goals and break them into manageable steps, celebrating each victory.
Embrace routines and consistent habits to create structure and conquer your day. Utilize technology and productivity tools to stay on track and never miss a beat.
Tame time with strategic planning and time management techniques. Learn to delegate and share responsibilities to lighten your load and empower others. Embrace flexibility and adjust your course when life throws surprises your way.
Prioritize self-care and recharge your superhero powers to sustain success and happiness.
With these principles, you'll unleash the superhero within and make every day extraordinary on your adventure of life organization.
Our Productivity Planner Can Help!
Ready to take your productivity game to the next level? Download our FREE productivity planner today and unleash your full potential!
With our carefully designed productivity planner, you'll have a powerful tool in your hands to conquer your goals and make the most of your time. Say goodbye to scattered to-do lists and hello to structured, organized planning that actually works.
This planner will help you prioritize tasks, set clear goals, and track your progress with ease. You'll discover the joy of crossing off completed tasks and celebrating your achievements along the way. Plus, our planner includes helpful sections for reflection, habit tracking, and even a bit of inspiration to keep you motivated.
Don't miss out on this opportunity to supercharge your productivity and bring more enjoyment into your life. Download our FREE productivity planner now by signing up on the form below and get ready to soar towards success!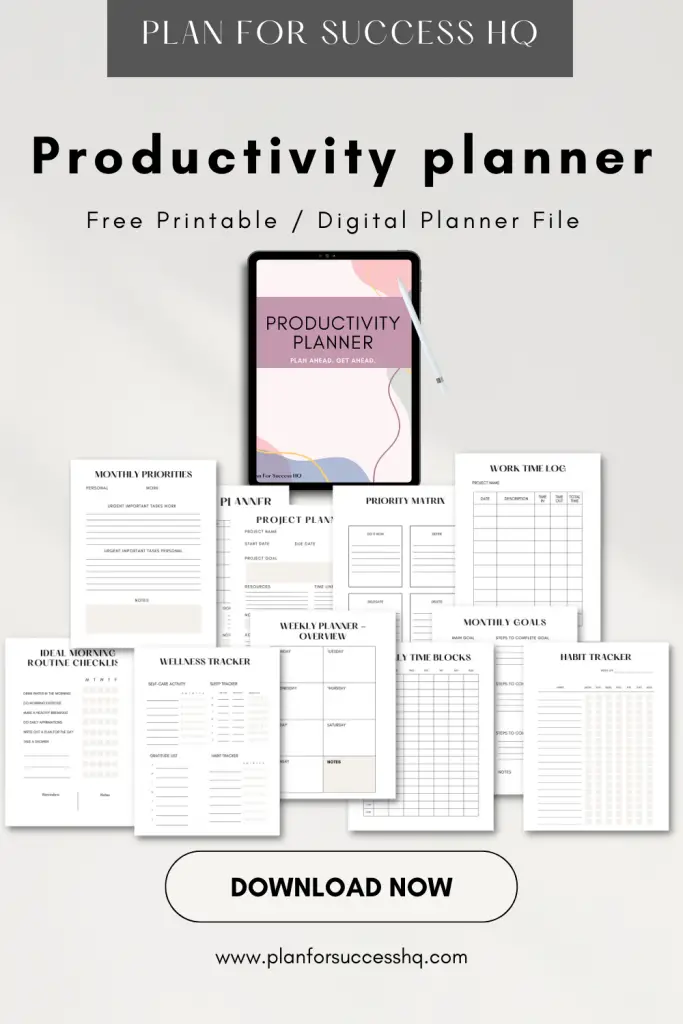 Remember, the key to unlocking your full potential lies in effective planning. Get your hands on our productivity planner today and let's make your dreams a reality!
FAQ
Does scheduling reduce stress?
Yes, scheduling can reduce stress by providing a sense of structure and control over one's time. Having a well-organized schedule helps manage tasks efficiently, prevents last-minute rushes, and allows for proper time allocation for work, relaxation, and self-care. A clear schedule can reduce uncertainty and create a more balanced and less stressful daily routine.
Why does planning make me feel better?
Planning can make you feel better for several reasons. Firstly, it brings a sense of control and organization to your life, reducing feelings of chaos and overwhelm.
Secondly, having a plan gives you a clear direction and purpose, making it easier to prioritize tasks and set achievable goals. This clarity fosters a sense of accomplishment and boosts motivation.
Thirdly, planning helps you anticipate potential challenges and develop strategies to overcome them, reducing anxiety and uncertainty.
Finally, knowing that you have a well-thought-out plan in place can provide comfort and reassurance, leading to increased confidence and overall well-being.
Does planning your day help anxiety?
Yes, planning your day can help reduce anxiety. Creating a clear and organized schedule provides a sense of control over your time, easing feelings of uncertainty and overwhelm.
By breaking tasks into manageable steps, planning allows you to focus on one thing at a time, reducing stress and preventing the feeling of being overwhelmed by a long to-do list.
Having a structured plan can also help you anticipate potential stressors and develop coping strategies. As you accomplish tasks according to your plan, it fosters a sense of achievement, boosting your confidence and reducing anxiety levels, leading to a calmer and more productive day.
Does daily planning help?
Yes, daily planning helps significantly. It provides structure, organization, and control over your day.
By setting priorities, breaking tasks into manageable steps, and anticipating potential challenges, daily planning increases productivity, reduces stress, and improves time management, leading to a more focused and accomplished day.
Why do I like routine so much?
You may like routine because it provides a sense of stability, predictability, and comfort. Routines create structure and help you feel in control of your day.
They reduce decision-making fatigue and provide a familiar pattern, making it easier to manage tasks efficiently and reduce stress.
Additionally, routines can help you develop positive habits and achieve your goals more consistently. Overall, the appeal of routines lies in their ability to simplify life and promote a sense of well-being and order.