Do you need a little motivation to jumpstart your productivity? Sometimes I do.
In a world filled with distractions and demands, harnessing productivity can be a daily battle.
But what if I told you that a simple shift in mindset could be the key to unlocking your full potential?
Enter the world of productivity affirmations, the empowering statements that have the power to transform your work ethic, boost your focus, and fuel your determination.
Why Negative Mindset Can Hinder Productivity
A negative mindset can be the silent productivity killer that sabotages your best intentions.
Those persistent negative thoughts and self-talk can seep into your subconscious mind, making hard work seem even harder.
As you grapple with your to-do list, the weight of negativity can drain your energy levels and spike stress levels.
But here's the powerful tool you've been missing: positive affirmations.
These short statements, part of your daily routine, act as a constant reminder of your core values and your ability to control your time.
When used effectively, daily affirmations redirect your mindset towards a positive attitude, channeling your mental energy in the right direction.
Imagine, with each spare moment, you're nurturing a more productive self, challenging bad habits, and embracing new challenges.
You can become the queen of productivity, and it doesn't have to cost extra.
It's time for a mindset shift that leads to a better version of yourself, one successful day at a time.
40 Best Productivity Affirmations
Here's a list of productivity affirmations to help you stay focused, motivated, and efficient in your daily life:
I am in control of my time and use it wisely.
I accomplish tasks with ease and grace.
I am organized and prioritize effectively.
I tackle challenges head-on and find solutions.
I stay focused and avoid distractions.
I am disciplined and stick to my schedule.
I complete my work efficiently and on time.
I approach my tasks with a positive mindset.
I am proactive and take initiative.
I break big goals into small, manageable steps.
I am committed to continuous improvement.
I am resilient and bounce back from setbacks.
I am capable of multitasking when necessary.
I maintain a clutter-free and organized workspace.
I say "no" to tasks that don't align with my goals.
I am confident in my abilities to succeed.
I stay calm under pressure and meet deadlines.
I set clear and achievable goals.
I am motivated and energized throughout the day.
I make the most of every moment.
I prioritize self-care to maintain high energy levels.
I am a master of time management.
I am highly productive and get things done.
I focus on what matters most.
I am mindful and present in my work.
I embrace challenges as opportunities for growth.
I take breaks to recharge and refocus.
I celebrate my achievements, big and small.
I am committed to creating a balanced work-life routine.
I attract positive energy and opportunities.
I am the architect of my own success.
I am efficient, effective, and excellent in my work.
I am a productivity powerhouse.
I thrive in a productive working environment.
I am always learning and adapting to improve.
I manage my time with precision and purpose.
I am unstoppable in my pursuit of goals.
I eliminate time-wasting habits and distractions.
I work smarter, not harder.
I find joy and fulfillment in my daily tasks.
How Affirmations Actually Work
Affirmations, those powerful positive statements, hold the key to unlocking a more productive day and driving positive change in our lives. But how do these simple words transform our thoughts, actions, and outcomes? Let's delve into the mechanics of how affirmations work.
At their core, affirmations counteract the negative self-talk that often clouds our minds. This persistent inner dialogue can hinder progress and breed self-doubt. But affirmations act as a beacon of positivity, illuminating the path toward a brighter, more productive future.
While this blog post may contain affiliate links, the real magic lies in the affirmations themselves—a carefully curated list of empowering statements that have the potential to revolutionize your mental landscape. They tap into the immense power of positive thoughts, gradually reprogramming your mindset for the better.
But what's the best way to use these affirmations? It starts with mental health, as affirmations reduce stress and anxiety, helping you reclaim control of your time. In less time than you might imagine, you'll discover that the most important thing is not the quantity of work but the quality and effectiveness of your efforts.
Affirmations infuse your daily routine with positivity. Phrased in the present tense, they tackle productivity issues that may have persisted for a long time. You'll soon embody the best version of yourself, without incurring any extra cost.
Stepping out of your comfort zone, you'll find that affirmations impact not just your work life but your personal life as well. They help you navigate the colossal amount of work that life presents, creating a great way to maintain a positive impact in both realms.
Become an efficient person who consistently delivers tasks in a timely manner. Your commitment to affirmations on a regular basis will reward you with increased productivity skills and an overall boost in your daily life.
As you repeat these affirmations, remember to take deep breaths and embrace the positive energy they offer. Even as an Amazon Associate, you'll find yourself evolving into a more productive person, dispelling negative thinking, and creating enough time for your pursuits.
With a small commission of your thoughts, you'll shift your mindset in the right direction, setting the stage for success, one single day at a time. Write these affirmations on a piece of paper or on sticky notes; let them become an integral part of your daily tasks.
The best thing? You can craft your own productivity affirmations, tailor-made to suit your goals and aspirations. The necessary equipment for this transformation is within you—a desire to become a better person and boost productivity.
Each day, as you embrace daily positive affirmations, you'll discover the simple yet profound impact of these short statements. They'll gradually reshape your thought patterns, ushering in a positive self-talk that fuels your personal projects and work endeavors.
Take the first step toward transforming your working environment, giving yourself a head start on a long period of time filled with productivity, fulfillment, and success. Below, you'll find examples of productivity affirmations to kickstart your journey toward an improved work-life balance and excellence in every work project and personal project.
Harness the power of positive emotions and live in the present moment. Start today with these best productivity affirmations and experience the positive effect they have on your daily life. Your journey toward becoming a more productive, efficient, and fulfilled person begins here.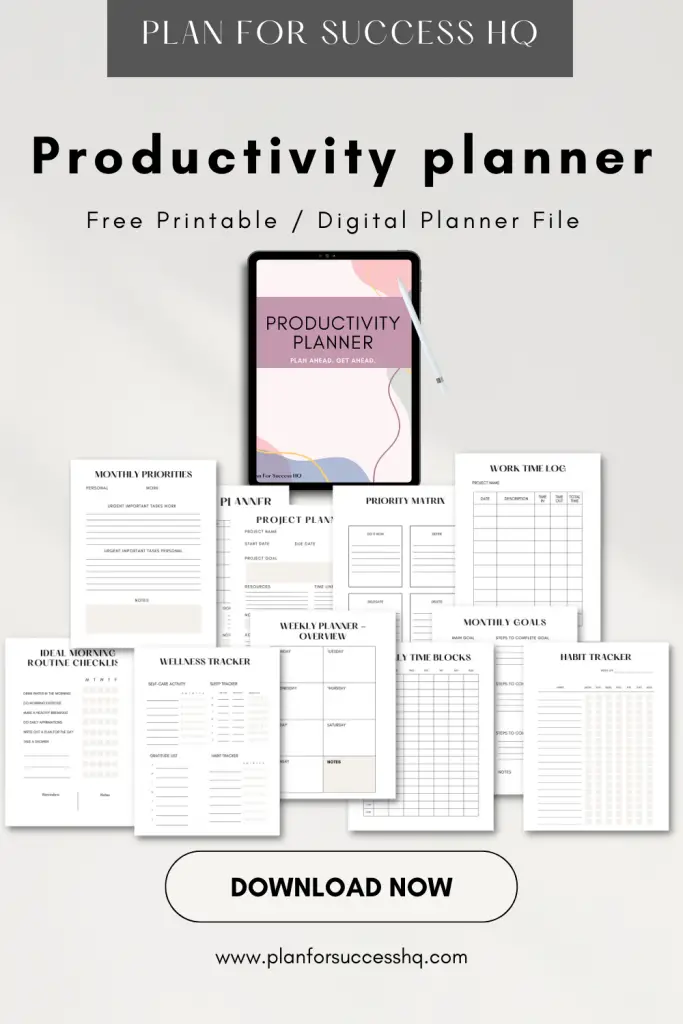 Benefits of Productivity Affirmations
The benefits of productivity affirmations are numerous and can have a profound impact on your personal and professional life. Here are some key advantages:
Positive Mindset: Productivity affirmations help cultivate a positive mindset. They shift your focus from self-doubt and negativity to confidence and optimism, which can improve your overall mental well-being.
Increased Motivation: Affirmations act as a source of motivation. They remind you of your goals and aspirations, boosting your determination to work towards them.
Improved Focus: By repeating affirmations related to staying on track and avoiding distractions, you can enhance your ability to concentrate on tasks, leading to increased productivity.
Stress Reduction: Positive affirmations can reduce stress and anxiety. When you believe in your capabilities and stay focused on positive outcomes, you're less likely to feel overwhelmed.
Enhanced Self-Confidence: Affirmations boost self-confidence and self-esteem. When you repeatedly affirm your competence and abilities, you're more likely to take on challenges and believe in your capacity to succeed.
Better Time Management: Affirmations that emphasize effective use of your time can improve your time management skills. You become more conscious of how you allocate your time and strive to make the most of it.
Increased Productivity: As you internalize affirmations about being a productive person, you're more likely to take actions that lead to increased productivity. You become committed to accomplishing tasks efficiently.
Goal Achievement: Affirmations are goal-oriented. By regularly affirming your commitment to your goals, you reinforce your determination to achieve them.
Positive Energy: Affirmations generate positive energy. This energy can fuel your efforts and help you approach tasks with enthusiasm and vigor.
Daily Routine Integration: When practiced on a daily basis, affirmations become part of your routine. This consistency can lead to long-term positive changes in your mindset and behavior.
Shift in Thought Patterns: Affirmations gradually reshape your thought patterns. They replace negative or self-limiting thoughts with positive, empowering ones.
Better Work-Life Balance: Productivity affirmations can help you strike a balance between work and personal life by reinforcing the importance of managing your time effectively.
Increased Efficiency: Affirmations that emphasize being efficient can lead to a more streamlined approach to tasks, reducing wasted time and effort.
Commitment to Self-Care: Some affirmations highlight the importance of self-care, reminding you to prioritize your well-being and recharge when necessary.
Consistent Progress: Regular use of affirmations keeps you focused on making consistent progress toward your goals, even during challenging times.
Mindfulness: Affirmations encourage mindfulness and living in the present moment, allowing you to be fully engaged in your tasks.
Personal Empowerment: Affirmations empower you to take control of your thoughts, actions, and life choices, making you feel more in charge of your destiny.
Incorporating productivity affirmations into your daily routine can be a transformative practice, helping you overcome obstacles, stay motivated, and achieve your goals with a positive and empowered mindset.
How To Use Productivity Affirmations
Using productivity affirmations effectively can help you harness the power of positive thinking and transform your daily life. Here's a guide on how to use productivity affirmations:
Create a List of Affirmations: Start by compiling a list of powerful affirmations related to productivity. These affirmations should be positive statements that reflect your goals, values, and the changes you want to make in your life.
Understand the Power of Positive Affirmations: Recognize that positive affirmations have the potential to bring about good things in your life. They work by reshaping your thought patterns and fostering a more positive mindset.
Incorporate Them into Your Daily Routine: To benefit from affirmations, use them on a daily basis. Find a time that works best for you, whether it's in the morning, during a break, or before bed. Consistency is key.
Choose Effective Affirmations: Select affirmations that resonate with you and address specific areas where you want to see improvements. For example, if time management is a challenge, use affirmations like "I make effective use of my time" or "I prioritize tasks efficiently."
Integrate Them into Everyday Life: Repeating your affirmations should become a natural part of your day. You can say them out loud, write them down, or even visualize them. Incorporate them into tasks you perform regularly.
Maintain the Right Mindset: As you use affirmations, maintain a positive and open mindset. Believe in the statements you're affirming, and let go of any doubts or negative thoughts that may arise.
Keep Them Simple: Affirmations are most effective when they are simple and easy to remember. Short statements like "I am productive" or "I achieve my goals" are often more powerful than lengthy affirmations.
Combat Negative Feelings: When you encounter negative feelings or self-doubt, use your affirmations as a tool to counteract them. Repeat your affirmations to reinforce your positive mindset.
Focus on Positive Things: Your affirmations should be focused on what you want to achieve rather than what you want to avoid. For example, instead of saying "I avoid procrastination," say "I am proactive and productive."
Affirm in a Positive Way: Phrase your affirmations in a positive and affirmative manner. Use words like "I am," "I can," and "I will" to convey confidence and determination.
Acknowledge the Benefits: Recognize the benefits of using affirmations in your life. They can lead to improved self-esteem, increased motivation, and a more optimistic outlook on challenges.
Apply Them to a Lot of Things: Don't limit your use of affirmations to just one aspect of your life. Use them to address a variety of goals, whether they relate to work, relationships, personal growth, or health.
Expect a Good Day: Start your day by affirming that it will be a good day. This positive expectation can set the tone for a productive and fulfilling day.
By incorporating these steps into your routine, you can make the most of the benefits of using productivity affirmations and experience positive changes in various aspects of your life. Remember that consistency and belief in the affirmations are key to their effectiveness.
By the way, we have this awesome productivity planner – it's free – just as a thank you for landing on this post!
Make sure to save this post on Pinterest for future reference. Simply hover over the image below and click the SAVE button to pin it on your Pinterest board.
I would greatly appreciate it if you could repin or share this post. Your support will make a significant difference for our small blog. Thank you so much!