Can we take a moment to appreciate all the incredible work we do (as moms)? From juggling household chores to taking care of the kiddos, our days are packed with endless responsibilities.
It's a rewarding yet challenging role that often leaves us longing for some order and sanity in our lives.
Well, guess what? I've got some good news for you! I've discovered that implementing routines can be a game-changer for us busy moms.
Picture this: a life where chaos takes a backseat, where you can sail through the day with a sense of purpose and organization.
Sounds amazing, right? That's exactly what routines can do for us. They not only help us stay organized but also reduce stress and create a more balanced and fulfilling lifestyle.
Now, I know what you might be thinking – routines can be boring and rigid. But fear not, my friend! These routines aren't about stifling spontaneity or turning us into robots.
They're designed to bring structure and peace into our lives, while still allowing room for flexibility and fun.
In this blog post, I'm going to share with you seven routines that have worked wonders for me as a stay-at-home mom.
These routines cover various aspects of our lives, from starting the day off right to taking care of ourselves and our little ones.
Routines For Moms
Morning Routine
As moms, a well-established morning routine can set the tone for the entire day.
Waking up just 15 minutes earlier can give us precious "me time" before the chaos begins.
Resist hitting the snooze button repeatedly and use these quiet moments for meditation, journaling, or enjoying a warm cup of coffee.
Plan your day, get dressed, and prioritize a healthy breakfast to fuel your body and mind.
By establishing a consistent morning routine, you'll feel more centered, organized, and ready to tackle whatever the day brings.
Make the most of those precious morning hours and start your day off right!
Meal Planning and Preparation Routine
For busy moms, meal planning and preparation can be a game-changer.
Dedicate time each week to create a meal plan based on family preferences and dietary needs. Use a pen and paper or a meal planning app to organize your weekly meals and create a corresponding grocery list.
By doing so, you save time, reduce stress, and ensure your loved ones are well-nourished.
Having a clear plan in place eliminates daily meal stress and minimizes grocery store trips, making cooking a smoother and more efficient process.
Cleaning and Organizing Routine
As moms, maintaining a clean and organized home is essential for our well-being, but it can be challenging with motherhood demands.
Establishing a cleaning routine is crucial.
Create a schedule for daily, weekly, and monthly tasks. Break them into manageable chunks to avoid feeling overwhelmed.
Assign specific tasks to different days to focus on one area at a time.
This consistency will help keep your home tidy and clutter-free, giving you a more peaceful living space.
Incorporate daily organizing into your routine.
Declutter and use storage solutions like bins and baskets.
Get the family involved, delegate tasks, and create a sense of teamwork.
Teaching responsibility and teamwork will lighten your load and promote a tidy household.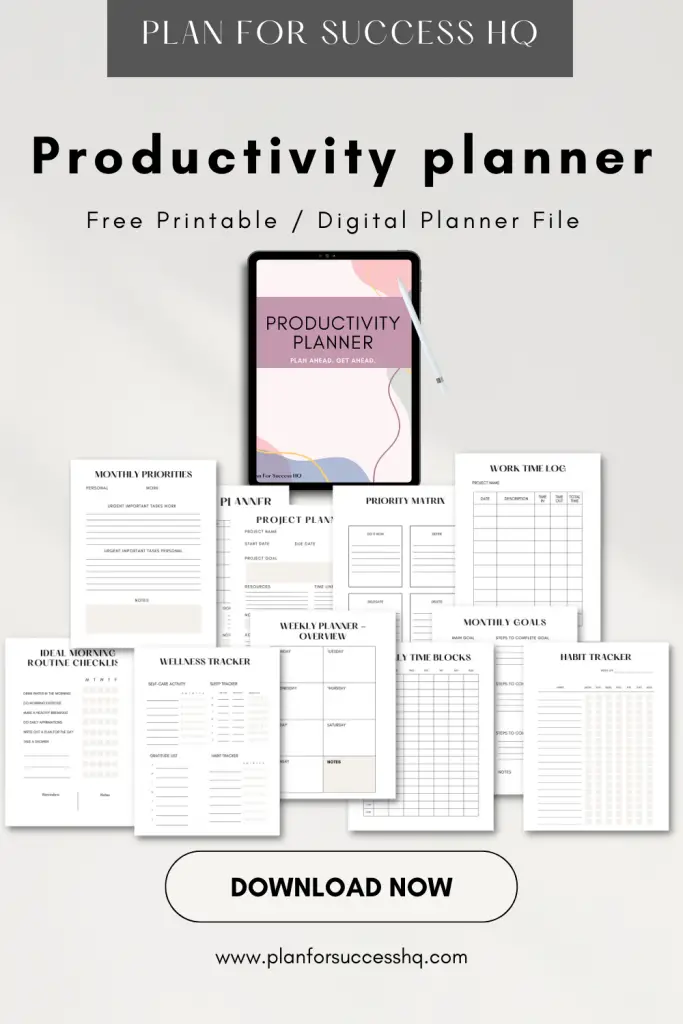 Self-Care Routine
As moms, prioritizing self-care is essential for our well-being. Establish a routine by dedicating time each day for activities that bring joy and relaxation.
Wake up earlier for quiet moments, practice self-reflection, or engage in hobbies.
Don't neglect physical health; exercise, eat well, and get enough rest.
Delegate tasks and ask for help from family and friends.
Remember, self-care is not selfish—it's necessary to recharge, reduce stress, and show ourselves the love we deserve.
By making self-care a priority, we can better care for our families and ourselves.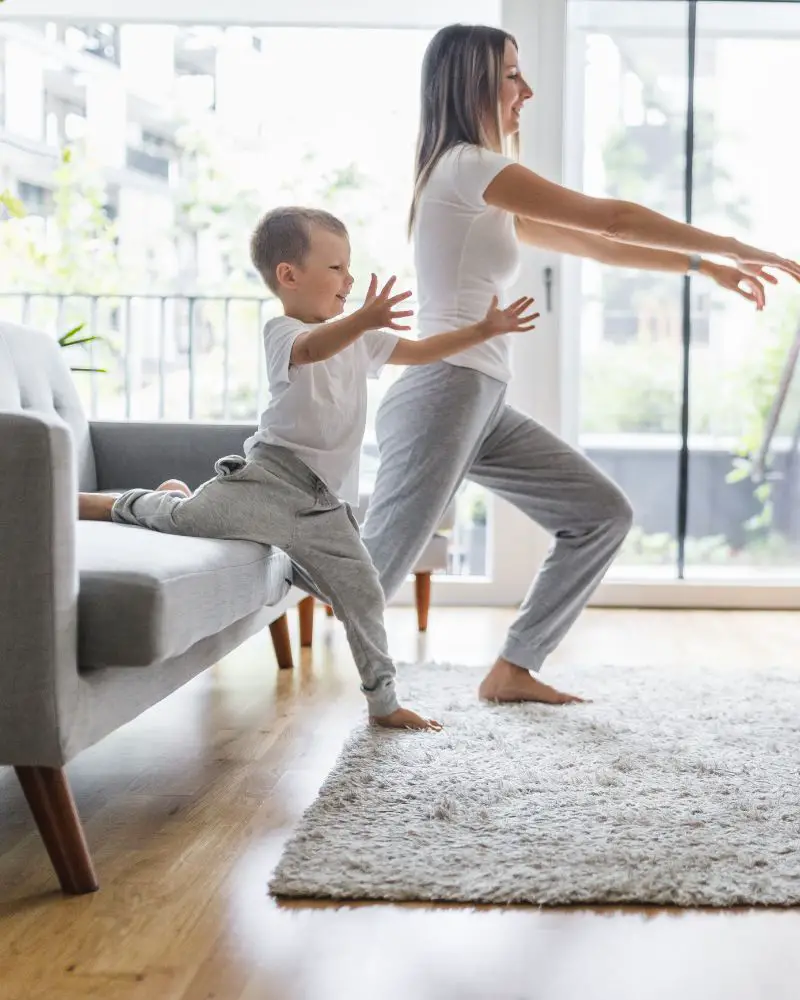 Kids Activities Routines
As moms, creating a nurturing childcare and activity routine is vital for our children's development and our own well-being.
Establish a consistent daily routine with designated wake-up and bedtime times, meal schedules, play, learning, and rest periods.
Plan engaging activities like reading, arts and crafts, and age-appropriate learning tasks. Encourage independent play to foster creativity and independence.
Prioritize quality one-on-one time with your child.
Balance structure with flexibility to embrace spontaneous moments and create cherished memories together.
By crafting a well-balanced routine, we create a harmonious environment for our children's growth and our own sense of order and balance.
Exercise and Fitness Routine
As moms, prioritizing our physical health is crucial.
Regular exercise boosts our energy levels and overall well-being. Find activities you enjoy, like running, dancing, or yoga, to make fitness enjoyable and sustainable.
Set realistic goals, aiming for at least 30 minutes of moderate-intensity exercise most days. Incorporate activity throughout your day, involving your children in fun physical play.
Seek support from friends, fitness groups, or online communities. Stay flexible and adjust your routine as needed.
Prioritize recovery and rest to prevent injuries. Remember, exercise is about caring for your body and promoting overall health, leading by example for your children.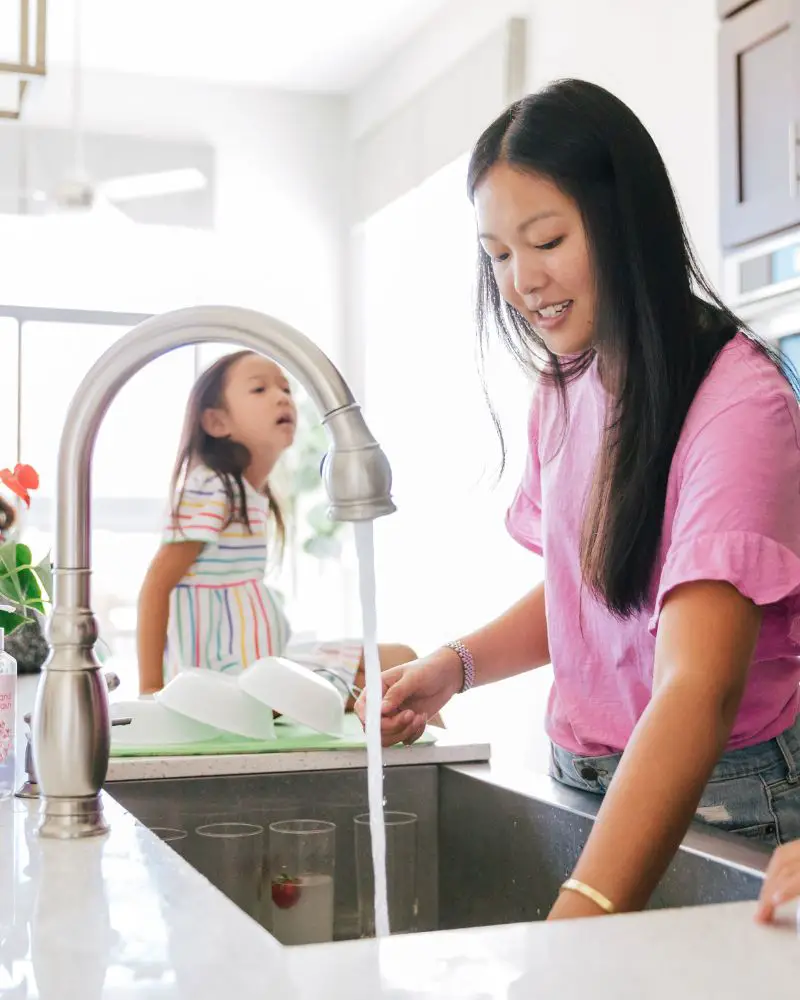 Evening Routine
As moms, our evenings can be hectic, but an evening routine can bring calmness and structure. Set a consistent bedtime to prioritize enough sleep.
Prepare for the next day by tidying up and organizing your belongings. Unwind with relaxing activities like a warm bath, stretching, reading, or music.
Limit screen time before bed to improve sleep quality. Practice self-care, like journaling or meditation. Create a bedtime routine for your children to establish healthy sleep habits.
Lastly, create a peaceful sleep environment with cool, dark, and quiet surroundings to ensure restful sleep.
FAQ
How do I make a daily schedule for a stay-at-home mom?
To create a daily schedule as a stay-at-home mom, start by identifying essential activities like meals, playtime, and nap times for your children. Allocate time for household chores and self-care. Schedule activities for your children that encourage learning and play. Be flexible and adjust the schedule as needed to accommodate unexpected events.
What do stay-at-home moms struggle with most?
Stay-at-home moms often struggle with finding a balance between caring for their children, managing household responsibilities, and finding time for themselves. They may also face feelings of isolation, loss of identity outside of motherhood, and challenges related to self-care and maintaining personal goals and interests.
Is it healthy to be a stay-at-home mom?
The decision to be a stay-at-home mom can be healthy and fulfilling for some individuals, as it allows them to focus on their family and be actively involved in their children's upbringing. However, it's essential to consider individual circumstances, personal preferences, and mental well-being to ensure it remains a positive and healthy choice for both the mom and the family.
What is stay-at-home mom burnout?
Stay-at-home mom burnout refers to a state of physical, emotional, and mental exhaustion that can occur when the demands and responsibilities of being a full-time caregiver and homemaker become overwhelming. It often results from the constant juggling of tasks, lack of personal time, and feeling undervalued, leading to feelings of stress and fatigue.
How can a stay at home mom get it all done?
A stay-at-home mom can manage her responsibilities by creating a daily schedule, prioritizing tasks, and delegating when possible. Setting realistic expectations, practicing self-care, and seeking support from family or friends are vital for achieving a balanced and fulfilling life.
Do you put stay at home mom on your resume?
Including "stay-at-home mom" on a resume is a personal decision. Some choose to include it, highlighting skills gained during that time, such as multitasking, organization, and time management. Others prefer to focus on professional experience. Tailor the resume to emphasize relevant skills for the desired job.
How can a stay at home mom be more efficient?
To be more efficient as a stay-at-home mom, prioritize tasks, create a daily schedule, delegate when possible, and use tools like planners or apps to stay organized. Batch similar tasks together, minimize distractions, and take breaks to avoid burnout. Remember that self-care and seeking support are crucial for maintaining efficiency and well-being.