In an era where digital transformation shapes every facet of our lives, even the traditional realm of planners has undergone a digital revolution.
Digital planners, the modern answer to paper organizers, are rewriting the rules of planning and organization. But what exactly are digital planners, and why are they gaining such popularity?
From the convenience of your favorite device to the endless customization possibilities, we'll unravel the wonders of digital planners and explore how they are redefining the way we schedule, organize, and stay on top of our goals.
What Is A Digital Planner
A digital planner is a software-based tool that replicates the functionality of a traditional paper planner in a digital format. It allows users to schedule appointments, create to-do lists, set goals, and organize tasks electronically, typically on devices like smartphones, tablets, or computers, offering greater flexibility and customization.
How Does a Digital Planner Work?
A digital planner functions as specialized software that replicates the core features of traditional paper planners in a digital format.
Users can create to-do lists, set goals, and organize day-to-day activities on mobile devices like smartphones or tablets, often using an Apple Pencil or a digital annotation app for precise input.
These planners, accessible via platforms like Google Drive or as interactive PDFs, allow easy navigation through customizable layouts like weekly spreads or monthly pages.
With the convenience of quick access and cloud services, digital planners, often filled with features like habit trackers and digital stickers, have become the best option for those seeking to streamline their schedules in today's digital world.
Why Use A Digital Planner vs. Paper?

Exploring the realm of digital planning offers a myriad of possibilities. Digital planners, among the best tools for modern organization, provide you with the opportunity to craft your very own digital planner, tailored to your unique style and preferences. These planners, accessible through digital devices like Android tablets or the iPad Pro, take the form of digital calendars and PDF files, often used in conjunction with a dedicated digital planning app like GoodNotes.
What sets them apart is their adaptability to your personal style, offering a blank canvas to build the perfect planner layout. With options for daily, weekly, and interactive PDF planning pages, they cater to a wide range of needs. You can even incorporate features like habit trackers to keep you on top of important tasks.
The ease of syncing with Google Calendar, Google Slides, and other platforms simplifies managing your work schedule and personal planner. Exploring different color schemes, such as those reminiscent of the British Virgin Islands or Christmas Island, adds a touch of creativity. Passion Planner enthusiasts will appreciate the electronic planner's capabilities, as they make tracking appointments, creating grocery lists, and setting weekly spreads as simple as using digital sticky notes.
But what truly makes these digital planners stand out is their customizable nature, reflecting the latest trends in digital planning. Whether you prefer an undated planner or an interactive one filled with affiliate links and advanced features, there's a digital planner for every type of planner.
Utilizing powerful tools like Adobe InDesign, you can craft the perfect planner that caters to your unique needs, all while reducing the time spent compared to regular paper planners. With a digital daily planner at your disposal, you'll never miss out on important events, and touch screen capabilities make navigation a breeze.
As you dive into the world of digital planning, blog posts and user data offer valuable insights into the best digital planners and note-taking apps, making it easier than ever to get started. With the flexibility and adaptability of digital planners, the only "wrong answer" is not giving them a try. So, embrace the digital age and discover the easiest way to stay organized and efficient in both your personal and professional life.
Best Digital Planning Apps
We really like to use goodnotes, but are also familiar with Notability.
When it comes to digital planning, two standout apps have earned a place in the limelight: GoodNotes and Notability. These apps are cherished by users for their exceptional features and versatility.
GoodNotes: Renowned for its user-friendly interface and extensive customization options, GoodNotes is a top choice for digital planning enthusiasts. It offers a wide variety of templates, from daily and weekly layouts to habit trackers and goal-setting pages. GoodNotes supports easy navigation, interactive PDFs, and the ability to add digital stickers, making it a go-to app for personalizing your planning experience.
Notability: While Notability is primarily recognized for its prowess in note-taking and PDF annotation, it also offers planning features. It boasts a straightforward interface, making it a great option for those looking to keep their planning and note-taking in one place. Notability's simplicity and compatibility with the Apple Pencil make it a favorite among iPad users.
Both GoodNotes and Notability have their unique strengths, making them popular choices in the digital planning realm. Your preference ultimately boils down to your specific planning needs and style. Whether you opt for the extensive customization of GoodNotes or the simplicity of Notability, these apps are excellent tools for crafting your digital planning journey.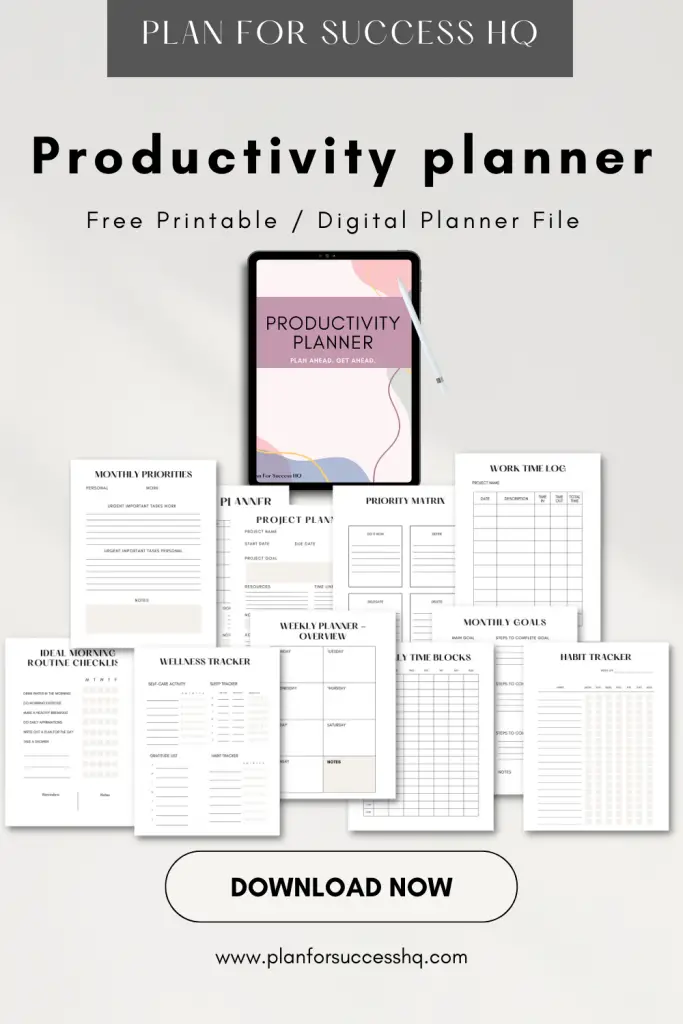 Can You Sync Your digital calendar With Your Digital Planner?
Yes, you can sync your digital calendar with your digital planner for seamless organization. Many digital planning apps and tools offer integration with popular calendar services like Google Calendar, Apple Calendar, and Microsoft Outlook. Here's how it typically works:
Importing Calendar Events: Most digital planners allow you to import events from your digital calendar. This process usually involves connecting your calendar account within the planner app.
Two-Way Sync: In many cases, changes made in either your digital planner or your digital calendar will sync in both directions. For example, if you add an event to your digital calendar, it may appear in your digital planner, and vice versa.
Color Coding: To maintain clarity, some apps enable you to color-code events based on their source. This helps you differentiate between personal, work, and other types of events.
Reminders and Alerts: Events from your digital calendar can trigger reminders and alerts in your digital planner, ensuring you don't miss important appointments or tasks.
Viewing Options: You can usually choose how calendar events are displayed in your digital planner, such as in a daily, weekly, or monthly view, depending on your preferences.
Sync Frequency: The frequency of synchronization may vary depending on the app or service you use, but most offer near real-time or daily sync options.
Can I Access My Digital Planner On The Computer or Does It Stay On the Tablet?
You'll find that the beauty of a digital planner lies in its flexibility and accessibility. Whether you're using an Android tablet with a PDF annotation app, or you're keen on tracking habits and jotting down daily notes with the GoodNotes app, digital planners cater to personal preferences.
With options like weekly pages, customizable layouts, or blank pages, it's like having your own personalized online planner. What's even better is the synchronization across devices, so you can seamlessly switch from your tablet to your computer.
From the British Indian Ocean Territory to the Cayman Islands, digital planners offer the convenience of managing PDF documents and grocery lists, saving time compared to traditional paper planners.
Explore the vast world of digital planning, from popular options to your favorite note-taking apps, and keep track of appointments and important tasks effortlessly.
Plus, with the convenience of cloud services and the variety of digital planner types available, it's a great way to stay organized and efficient, especially for Apple product users.
So, if you're looking for the best tool to manage your daily tasks, consider the idea of a digital planner—it might just be the great tool you've been searching for in a busy world.
Can A Digital Planner Be Beneficial For A Stay At Home Mom?

Absolutely, a digital planner can be highly beneficial for a stay-at-home mom. Here are some ways in which a digital planner can make life easier and more organized:
Scheduling: A digital planner allows stay-at-home moms to schedule appointments, playdates, school events, and other commitments. With synchronized access on smartphones or tablets, it's easy to keep track of family schedules.
To-Do Lists: Digital planners make it simple to create and manage to-do lists. Moms can organize tasks such as grocery shopping, meal planning, and household chores, ensuring nothing is overlooked.
Meal Planning: Many digital planners offer meal planning templates, making it easier to plan nutritious meals for the family, create shopping lists, and even store favorite recipes.
Budgeting: Digital planners can help moms manage the household budget. They can track expenses, set financial goals, and plan for savings or special expenses.
Health and Wellness: Stay-at-home moms can use digital planners to track family members' health appointments, vaccinations, and exercise routines. Some digital planners even include habit trackers for staying on top of personal wellness goals.
School and Education: For moms with school-age children, digital planners can help manage school schedules, assignments, and extracurricular activities.
Digital Notes: Moms can use the note-taking features to jot down important information, shopping lists, or capture ideas and memories.
Customization: Digital planners are highly customizable, allowing moms to tailor them to their specific needs and preferences. Whether it's adding stickers, changing layouts, or using different color schemes, the planner can reflect personal style.
Portability: Digital planners can be accessed on mobile devices, making them convenient for on-the-go moms. It's like having a personal assistant in your pocket.
Backup and Security: With digital planners, there's less risk of losing important information. Most apps offer backup options to keep data secure.
Time Management: Digital planners often include time management tools and features like reminders and alarms, helping moms stay organized and punctual.
Goal Setting: Moms can use digital planners to set and track personal and family goals, from fitness goals to home improvement projects.
Bottom Line
Digital planners have revolutionized the way we organize our lives in this fast-paced digital age.
With the ability to store and manage PDF files, seamlessly integrate with social media, and incorporate tools like habit trackers into our daily pages, they offer a level of personalization that aligns with individual preferences.
Whether you prefer a sleek PDF planner or an interactive weekly spread, the best part is that digital planners cater to diverse needs and tastes. From Cape Verde to Bosnia & Herzegovina, these customizable planners save time on tasks like creating grocery lists.
Android users can easily transition to a new digital planner, and the most popular digital planners often become a favorite note-taking app for tracking important things.
They're a modern alternative to regular paper planners, with pricing options to suit various budgets.
By the way, we have this awesome productivity planner – it's free – just as a thank you for landing on this post!
Make sure to save this post on Pinterest for future reference. Simply hover over the image below and click the SAVE button to pin it on your Pinterest board.
I would greatly appreciate it if you could repin or share this post. Your support will make a significant difference for our small blog. Thank you so much!