As a busy mom with a packed schedule, it can be challenging to keep the household running smoothly while also ensuring that my kids are learning important life skills.
Fortunately, I have a sister who is also a parent and we often share tips and tricks for managing our busy lives.
One idea that she shared with me that has been a game-changer is the use of a chore chart for her kids.
At first, I was skeptical, but after seeing the benefits firsthand, I am now a firm believer that every parent needs a chore chart in their home.
In this blog post, I'll share my experiences and explain why a chore chart is an essential tool for any family looking to teach their children responsibility, teamwork, and time-management skills.
Benefits of a chore chart
A chore chart offers various benefits for children and parents alike.
Firstly, it fosters responsibility and accountability as children complete age-appropriate tasks regularly, recognizing their significance in the household.
It promotes teamwork and collaboration, valuable skills for other aspects of life.
It also teaches time management and organization, building essential life skills.
Completing tasks and receiving recognition boosts children's self-esteem and confidence.
It eases parental stress by delegating household responsibilities, creating a harmonious household dynamic.
How to create a chore chart
Discover the simplicity of creating a family chore chart that works wonders.
Start by selecting age-appropriate tasks for each child and introduce a motivating reward system like stickers or points.
Design the visually appealing chart, placing it in a visible location. Divide sections for each child, listing their tasks.
Be flexible and adapt the chart as needed, rotating tasks periodically for skill development. Praise and encourage your kids for their efforts to foster a harmonious household.
Download our FREE chore chart for kids, designed for ease and fun, and enjoy a more organized and efficient family life today!
Tips for implementing a chore chart
Implementing a successful chore chart is easier with these tips. Keep it simple and start with a few basic tasks, gradually adding more as your kids get comfortable with the routine.
Consistency is key, updating the chart weekly to foster good habits. Tailor tasks to your child's age and ability, avoiding unrealistic expectations.
Clearly communicate expectations, rewards, and consequences.
Stay flexible and adjust the chart as needed to accommodate changing schedules and interests. Be patient and encourage your kids, helping them take pride in their contributions.
With these strategies, you'll create an effective chore chart that keeps your family organized and on track. Best of luck!
Need More Planning Help? Check Out Our Mom Life Planner On Etsy!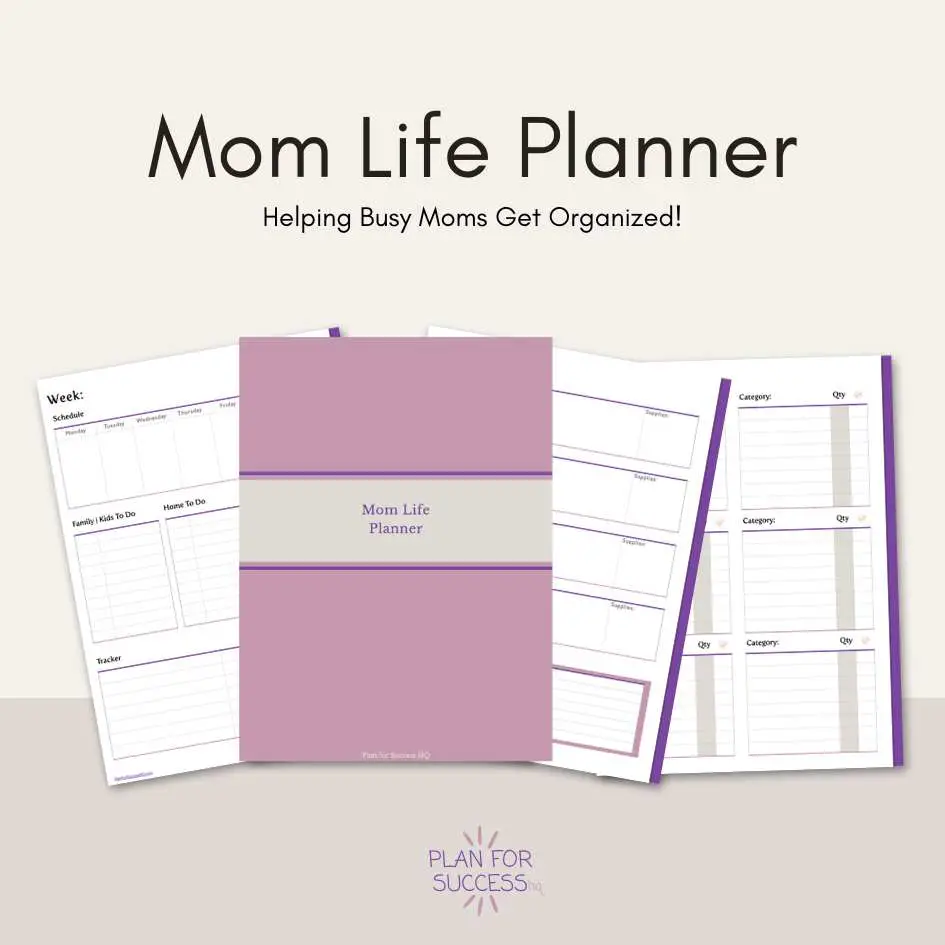 FAQ
How do you make a family chore chart?
Creating a family chore chart is simple with these steps.
First, list age-appropriate tasks for each family member. Next, decide on a reward system to motivate completion of chores.
Design the chart using bright colors and visuals, making it appealing and easy to read. Display it in a visible location, like the fridge or a common area.
Assign tasks to each family member, ensuring clarity on expectations. Be flexible, adjusting the chart as needed to fit changing schedules or interests.
Lastly, praise and encourage family members for their efforts to maintain a harmonious and organized household.
What is a household chore that has to be done everyday?
One household chore that needs to be done every day is dishes or dishwashing.
Whether using a dishwasher or washing by hand, cleaning up after meals and ensuring a tidy kitchen is essential for maintaining a hygienic and organized home.
By washing, drying, and putting away dishes regularly, you prevent the buildup of dirty dishes, reduce pests, and create a pleasant environment for meal preparation and family gatherings.
Daily dishwashing helps keep the kitchen clean and functional, making it a vital chore in daily household routines.
How do you make a daily chore chart?
Creating a daily chore chart is a breeze with these steps. Begin by listing age-appropriate daily chores for each family member.
Design a visually appealing chart with clear sections for tasks and names. Place it in a visible area for easy access.
Assign tasks to family members and communicate expectations. Be open to adjustments as schedules and interests change. Encourage and praise efforts to foster a harmonious household.
Additionally, you can find a free chore chart template on this website, making the process even simpler. Download and use it to track daily tasks and enjoy an organized and efficient family routine.
How do you divide household chores in your family?
Dividing household chores in our family involves an open discussion to ensure fairness and efficiency.
We start by listing all necessary tasks, considering age-appropriateness and individual abilities.
Each family member selects chores they prefer or feel competent in, and we rotate responsibilities periodically to avoid monotony.
We use a chore chart to keep track of assigned tasks and display it in a visible area for easy reference. Clear communication on expectations, rewards, and consequences is essential.
We emphasize teamwork and cooperation, encouraging everyone to support each other in completing chores. By involving all family members, we create a balanced and harmonious division of household responsibilities.
How do you simplify daily chores?
To simplify daily chores, prioritize and streamline tasks.
Create a shortlist of essential chores and focus on completing those first. Use a chore chart to allocate tasks efficiently and share responsibilities among family members. Minimize clutter by organizing and decluttering regularly.
Invest in time-saving tools and products, such as dishwashers or robotic vacuums. Establish a routine to maintain consistency and efficiency.
Break larger tasks into smaller, manageable steps, and set achievable goals. Encourage family members to pitch in and collaborate, making chores a team effort.
By simplifying daily chores, you can free up time and create a more manageable and enjoyable household routine.
Should husband help with housework?
Yes, husbands should help with housework.
Sharing household responsibilities fosters a more equitable and balanced relationship. Both partners contribute to maintaining a clean and organized home, reducing the burden on one individual.
Sharing chores promotes teamwork and strengthens the bond between spouses. It also allows for more quality time together and better work-life balance.
Recognizing and valuing each other's efforts in managing the household promotes mutual respect and appreciation.
Embracing shared responsibility supports a modern and progressive approach to marriage, where both partners contribute to the well-being of the family and the household.