Digital planners are all the rage, especially as more folks embrace remote work and seek to elevate their organization game.
But oh, the dilemma of choice! With a smorgasbord of digital planning tools out there, how do you pick the one that's tailor-made for your needs?
Fear not, because we're here to spill the beans on two top-notch contenders: Google Calendar and the crème de la crème of digital planner apps. These gems play nice with both Android and Apple devices, from the trusty Android gadgets to the swanky iPad Pro.
Dive into the world of interactive PDFs, masterful goal-setting, and even grocery lists – all while managing your time like a pro, thanks to nifty features like calendar views and PDF annotation apps.
What are Digital Planners?
Digital planners are the modern answer to traditional paper planning, offering a wealth of features and customization options that make them the best option for tech-savvy individuals. Whether you're using an Apple Pencil or other mobile devices, these digital planning apps allow you to seamlessly interact with PDF files, making them ideal for both Android users and Apple aficionados.
One of their notable features is the calendar view, giving you different perspectives on your schedule. Interactive PDFs, habit trackers, and goal-setting tools help you manage your daily routine and projects effectively. These planners often sync with Google Drive for easy collaboration with team members or sharing on social media.
Many digital planning apps offer a free version, and some even allow handwritten notes and digital stickers. They work as all-in-one planners, helping you organize your personal life and work-related tasks in different views.
User-friendly interfaces, like the one you find in the GoodNotes app, make these planners an excellent choice for anyone looking to digitize their daily life. Whether you use an iPad Mini or any other tablet, they can transform your daily schedule and productivity.
The only drawback to some digital planners is the price point, but the productivity boost and convenience they offer can outweigh the cost. With unlimited tasks, customizable layouts, and features akin to a bullet journal or note-taking tool, they're the perfect planners to take your planning game to the next level.
These undated planners let you start anytime, and their drag-and-drop interface makes managing task lists a breeze. So, say goodbye to paper planning and embrace the future with a free digital planner that suits your needs. It's a good idea that can save you time and help you focus on what matters most – accomplishing great things in your daily life.
Our Top 2 Program Picks for Using Digital Planners
While there are many programs available that allow users to use and customize your digital planners. However, not all programs are created equal. We thought it'd be helpful to take a look at our top two program choices for using digital planners: GoodNotes and Notability.
By the way, we have this awesome productivity planner – it's free – just as a thank you for landing on this post!
Make sure to save this post on Pinterest for future reference. Simply hover over the image below and click the SAVE button to pin it on your Pinterest board.
I would greatly appreciate it if you could repin or share this post. Your support will make a significant difference for our small blog. Thank you so much!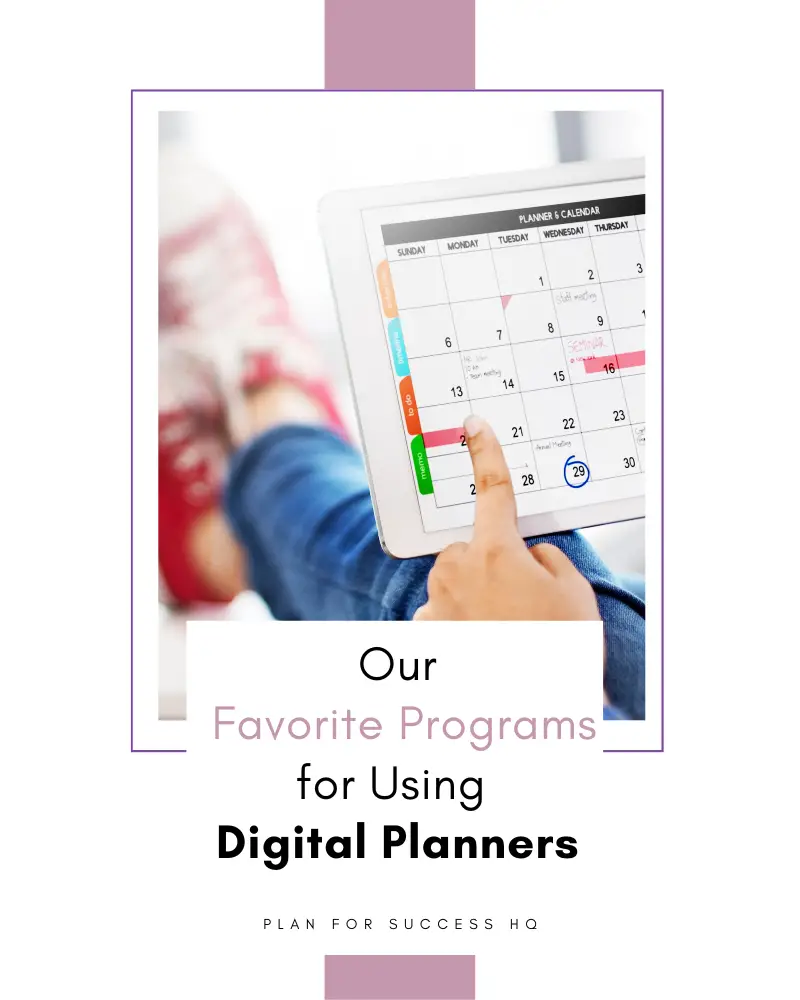 GoodNotes
GoodNotes is a very popular program for using digital planners. It's available for both iOS and macOS and offers a wide range of features that make it easy to organize and customize your digital planners.
Some of the key features of GoodNotes include:
customizable templates
easy organization of notes and planners
ability to sync across devices
page templates
more control over creating your own planner system
1-time payment
GoodNotes also offers a variety of tools for editing digital planners, including a range of pens, highlighters, and erasers. It's a great choice for anyone looking for a powerful and flexible note-taking app and is my personal preference.
Pricing
GoodNotes is a paid app, with a one-time purchase fee of $7.99. This fee includes all future updates and features, making it a great value for users who plan to use the app long-term.
Pros and Cons
Here are some notable pros and cons of using GoodNotes for digital planning:
Pros
Easy to use, navigate, and organize
Customizable templates and pen styles for personalized your planning
Integration with Apple and Google calendars for easy scheduling
One-time purchase fee for all future updates and features
Cons
Only available on iOS and Mac devices
No free trial available
Limited collaboration features for sharing and editing with others
Overall, GoodNotes is an ideal choice for users who want a customizable and easy-to-use app for digital planning and note-taking. While it does have some limitations, its features and pricing make it an attractive option for many users.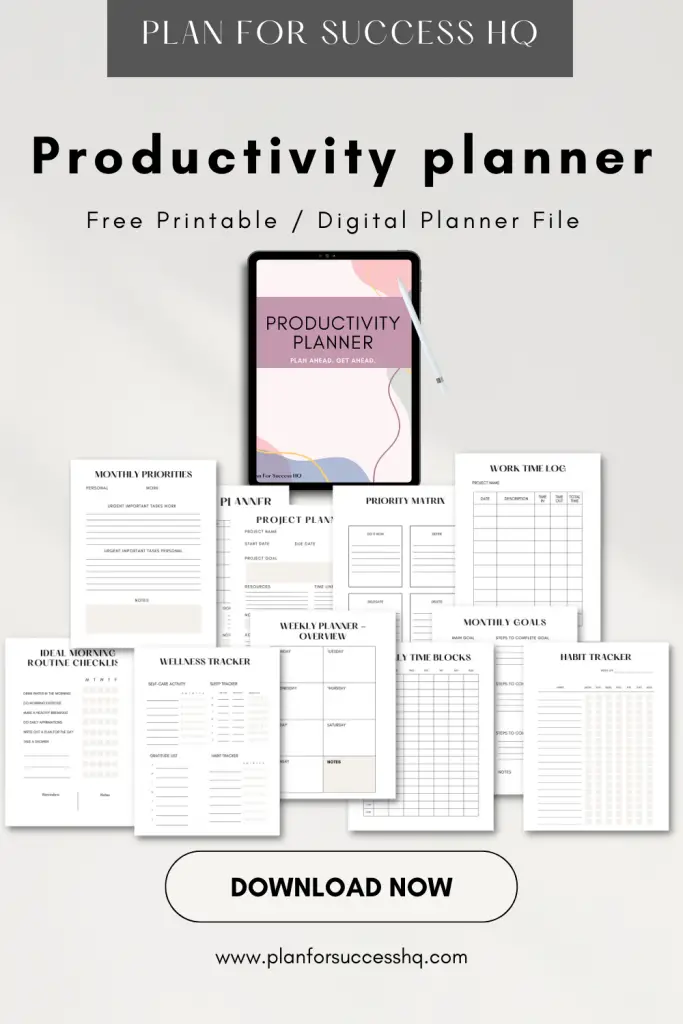 Notability
Notability is another popular program for using digital planners. It's also available for iOS and macOS and offers an array of features users love.
Some of the key features of Notability include:
handwriting recognition
extra pen tool features
ability to sync across devices
planner and notebook templates
in-app audio recording
yearly subscription
Notability also offers a range of tools for creating and editing digital planners, but does offer more options for your favorite writing tools. You'll have the option to password protect files and has a great ruler and lasso functions.
Pricing
Notability is available for purchase on the App Store for $9.99 a year. While it may seem expensive compared to other note-taking apps, its features and functionality make it well worth the investment.
Pros and Cons
Like any app, Notability has its pros and cons. Here are a few to consider:
Pros
Easy to use interface
Wide range of features for digital planning
Easy organization system
Library of customizable templates for personalized planning
Cons
Only available for iOS devices
Expensive compared to other note-taking apps
Limited customization options for digital planners
Overall, Notability is a great choice with a wide range of features for digital planning. While it may be expensive compared to other apps, its functionality and ease of use make a nice benefits.
Ready to try organizing your days with a digital planner that can meet all your needs? Choose the program that fits your wants and needs then head over to our shop or Etsy store to find digital planners, stickers, notebooks, and journals that will help you stay on task!
biggest differences between Notability and GoodNotes Digital Planning App
| Aspect | Notability | GoodNotes |
| --- | --- | --- |
| Primary Focus | Note-taking and annotation | Digital planning and note-taking |
| Interface and Usability | Simple and intuitive interface | User-friendly interface with planning features |
| Planning Templates | Limited selection | Wide variety of planning templates |
| Customization | Basic customization options | Extensive customization capabilities |
| File Management | Proprietary .note file format | Proprietary .goodnotes file format |
| Cross-Platform | iOS and macOS (as of 2021) | iOS and macOS (possible expansion) |
| Price | One-time purchase fee | One-time purchase fee |
How To Choose An App For Digital Planning
Choosing the right app for digital planning is crucial to ensure you stay organized and productive in today's tech-driven world. Here's a step-by-step guide to help you make the best choice:
Define Your Needs and Goals: Start by clarifying what you want to achieve with digital planning. Are you managing personal tasks, work projects, or both? Do you need features like habit tracking, goal setting, or project management tools? Knowing your needs will narrow down your options.
Consider Your Devices: Ensure the app is compatible with the devices you use. Whether you're on Android or iOS, using a tablet, smartphone, or computer, the app should work seamlessly.
Check for Key Features: Look for essential features like calendar views, interactive PDFs, customizable layouts, and task management tools. Make sure the app aligns with your planning style.
Sync and Collaboration: If you work with a team or want to access your plans from multiple devices, choose an app that syncs with cloud services like Google Drive or offers collaboration features.
Trial Versions: Many digital planning apps offer free trials. Take advantage of these to test the user interface, ease of use, and overall functionality. It's a great way to see if the app suits your preferences.
User Reviews and Recommendations: Read reviews from other users and seek recommendations from friends or online communities. User feedback can provide valuable insights into an app's pros and cons.
Cost and Pricing Model: Evaluate the pricing structure. Some apps offer free versions with limited features, while others require a one-time purchase or a subscription. Consider your budget and choose accordingly.
Customization: Determine how much you can personalize your digital planner. Customizable layouts, digital stickers, and the ability to add your own digital assets can enhance the planning experience.
Support and Updates: Check if the app is actively maintained and receives regular updates. This ensures that it stays compatible with your devices and continues to improve over time.
Security and Privacy: If you're storing sensitive information in your digital planner, ensure the app prioritizes data security and offers privacy features like password protection or encryption.
Ease of Migration: Consider how easy it is to import or export data from the app. You don't want to get locked into a platform that makes it difficult to switch in the future.
Long-Term Viability: Think about the longevity of the app. Will it be around for the long haul, or is it a newer, unproven platform? Established apps often have a track record of reliability.
What is the difference between planner and digital planner?
The fundamental difference between a physical planner and a digital planner lies in their medium and functionality. A traditional planner is a tangible, paper-based organizer where you jot down appointments, tasks, and notes manually with a pen or pencil. It offers a tactile, hands-on experience and appeals to those who appreciate the sensory aspect of writing on paper. Physical planners come in various styles and designs, catering to diverse preferences.
On the other hand, a digital planner is a software application or platform that replicates the functionalities of a physical planner in a digital format. Users interact with it on electronic devices such as smartphones, tablets, or computers. Digital planners offer the convenience of typing or stylus input and can include features like interactive PDFs, customizable layouts, and integration with cloud services. They often appeal to individuals seeking a more flexible, portable, and environmentally friendly planning solution.
Ultimately, the choice between a physical and digital planner depends on personal preferences, planning needs, and the desire for convenience, customization, and the benefits of modern technology. While some find joy in the tangible feel of a physical planner, others opt for the digital counterpart to harness its versatility and efficiency in today's digital age.
Are digital planners still popular?
Yes, the popularity of digital planners continues to soar in today's tech-driven world. With the increasing reliance on digital devices and the ever-growing need for streamlined organization, digital planners offer a modern solution that resonates with a wide range of individuals.
They've become an indispensable tool for remote workers, students, professionals, and anyone looking to enhance their productivity and keep their lives organized.
The convenience of accessing your planner on various devices, the ability to customize layouts, and features like interactive PDFs and collaboration options have all contributed to their enduring appeal.
In a world where technology is continually evolving, digital planners remain a resounding "yes" for those seeking efficient and flexible planning solutions.
What 5 things should be on a good daily planner?
A good daily planner should help you stay organized, focused, and on top of your tasks and goals. Here are five essential elements that should be on a good daily planner:
Date and Time Sections: Your daily planner should have designated spaces for dates and times. This allows you to schedule appointments, meetings, and tasks for specific hours of the day. Having a clear timeline helps you manage your time effectively.
To-Do List: A to-do list is a fundamental component of a daily planner. It lets you jot down tasks, errands, and priorities for the day. Make sure there's enough space for writing your tasks and checkboxes to mark them as completed.
Notes Section: An area for notes is invaluable for capturing important thoughts, ideas, or additional details related to your tasks and schedule. It's a versatile space for jotting down reminders, brainstorming, or making quick references.
Goal or Focus Section: Many daily planners include a space for setting daily goals or priorities. This section allows you to identify the most important tasks or objectives for the day, helping you stay focused on what truly matters.
Space for Reflection: A good daily planner should include a section for reflection or review. This can be at the end of the day or the start of the next. Reflecting on what you accomplished and what you didn't helps you make adjustments and plan more effectively in the future.
How do you structure a daily planner?
Structuring a daily planner effectively is crucial to ensure it serves as a practical tool for managing your day. Here's a step-by-step guide on how to structure a daily planner:
Header/Date Section:

Start with a header that includes the date. This provides a quick reference point and helps you identify which day the planner is for.
You can also include the day of the week for clarity.

Hourly Schedule:

Dedicate a section for your hourly schedule. Divide the day into time slots, typically starting from the early morning (e.g., 6:00 AM) to late evening (e.g., 10:00 PM).
Use this section to list appointments, meetings, and time-bound tasks. Be specific about the time and duration.

To-Do List:

Allocate space for a to-do list. This is where you jot down tasks, errands, and activities that need to be completed during the day.
You can categorize tasks by priority, deadlines, or categories (e.g., work, personal, health).

Notes Section:

Include a section for notes. This is where you can write down important information, ideas, reminders, or details related to your tasks and schedule.
It's a flexible space for capturing thoughts as they arise.

Goals/Priorities Section:

Designate an area for setting daily goals or priorities. These are the most important tasks or objectives you want to accomplish during the day.
Listing goals helps you stay focused on what matters most.

Reflection/Review Section:

Reserve a section for reflection or review. This can be at the end of the day or the beginning of the next.
Use this space to evaluate what you accomplished, what you didn't, and any insights gained during the day.
Reflecting helps you make improvements in your planning and time management.

Additional Features (Optional):

Depending on your preferences and needs, you can include additional features like habit trackers, meal planning sections, inspirational quotes, or sections for specific projects or goals.

Customization:

Customize your daily planner to suit your unique requirements. You can choose a layout that aligns with your planning style, whether it's minimalistic, colorful, or themed.

Consistency:

Maintain consistency in how you structure your daily planner from day to day. This makes it easier to develop a routine and use your planner effectively.

Use Symbols/Color-Coding (Optional):

To enhance organization, consider using symbols or color-coding to denote task priorities, categories, or status (e.g., completed, in progress).